---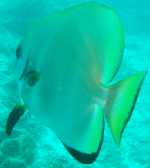 Alles spricht von Sternenkriegern, und ich sehe gar nicht ein, warum ich mich da zurückhalten soll:
Starwars Origins beschäftigt sich mit Einflüssen und Inspirationen für Star Wars aus Film, Literatur und Kultur.
Starkiller hält Originalskripts der Filmserie vor - das erste davon stammt von 1973!
Gerade in den Originalskripts werden so manche Einflüsse besonders deutlich: So wacht die Prinzessin dort auf ihrer Flucht vor dem Imperium nicht etwa über die Pläne für den Todesstern, sondern hütet eine Ladung
aura spice
-
Dune
, ick hör Dir trapsen. Ach ja, aus dem ersten Star-Wars-Skript:
"General Skywalker embraces Han Solo, the underground contact. Han is a huge, green skinned monster with no nose and large gills."
Der kiemenlose Lungenatmer Harrison Ford war, so denke ich, den meisten Kinobesuchern dann doch die genehmere Besetzung...
---
---
to top